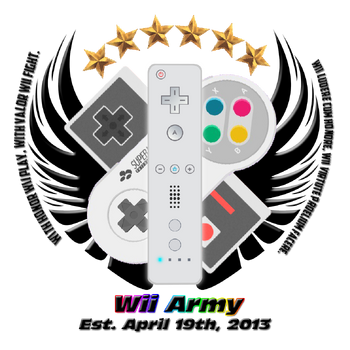 Wii ludere cum honore, Wii virtute proelium facere. Edit
"With honor wii play, with valor wii fight."
Edit
- #WiiArmy's Motto (Top: Latin, Bottom: English)

WiiArmy (Known famously as #WiiArmy) is a phrase used by Anthony's (PlayingWithMahWii's) fans as well as himself to symbolize his own army.
April 19th, 2013
Edit
 WiiArmy first appeared is an idea that Anthony came up with during the "4/19/13 Anything Goes Stream" while playing the Swedish Armed Forces, saying that they were so good at the game that "We should make our own army". IRC user Mahboison suggested at first "PlayingWithMahWii Army", but then quickly suggested "Wii Army". Anthony then decided to put a hastag as well as having no space between the Wii and Army. The name has stuck since.
April 19th, 2014

Edit
1 year anniversary.
April 19th, 2015
Edit
2 year anniversary.
June 23rd, 2015
Edit
Mahboison spontaneously decided to create a new logo for the WiiArmy (pictured at the top of the page) in celebration of it's 2nd anniversary.
April 19th, 2016
Edit
3 year anniversary.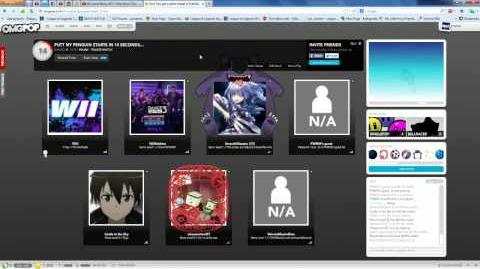 In the Army there are different squads. They [blah blah blah]. The squads are:
Fire Squad
Edit
Singe - Sergeant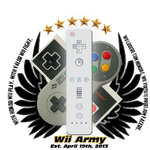 Anthony
- Sir Ultra Major Badass Viceroy Grand Duke Chancellor King
Princess Pope President Prime Minister C.E.O. Buddha God Governer Shogun Tzar Cesar C.M.O, Ph. D.
NekoBrianFangirl - Major-General
SeventhDisaster - Major
Mahboison - Colonel, chief recruitment officer
Crasher92 - Admiral (Naval Forces)
truepixartronphan - Marshal (Air Forces)
T2norway - Chief Logistics Officer and Potato Manager
Powie - Captain
schmutz - Marching band conductor
Singe - Sergeant of Fire Squad
Webkinz - Chief Cook
Kiku - Sanitation worker
Ad blocker interference detected!
Wikia is a free-to-use site that makes money from advertising. We have a modified experience for viewers using ad blockers

Wikia is not accessible if you've made further modifications. Remove the custom ad blocker rule(s) and the page will load as expected.