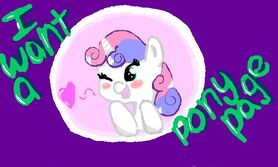 PonyPage (sometimes refered to as PP), also known as RubyRose, is a voiced regular on Playingwithmahwii's IRC chat.
Drawciawitch (well, I like to think shes my friend.)
JoinerOfSonicFans (SleepyIbuki)
fireheart_fh72
Rusty
siubiku
(pretty much everyone on the chat, that I talk to anyways :3)
Ad blocker interference detected!
Wikia is a free-to-use site that makes money from advertising. We have a modified experience for viewers using ad blockers

Wikia is not accessible if you've made further modifications. Remove the custom ad blocker rule(s) and the page will load as expected.