Welcome to the PlayingWithMah Wikia!
Edit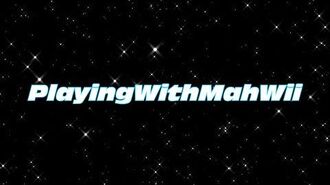 This Wiki is dedicated towards the gaming YouTuber PlayingWithMahWii.
Included to the right is his channel intro which is highly recommended if you are new to PlayingWithMahWii!
Please note: Throughout the rest of this wikia, we will be referring to PlayingWithMahWii as "Anthony" (his real life name) to provide our wikia with a clear sense of consitency!
Feel free to join our chat room!
Edit
Anthony decided to set up his own IRC chat room, where you can join in on the fun and do all sorts of shnazzy activities such as:
• Talk to Anthony live and directly
• Meet and greet fellow chatfans
• Harass the chatroom's robot, PWMWBot
• Exchange friend codes with folks and play games with fellow chatters
Provided below is a link to this glorious chatroom! :D Feel Free to say hi!
[Before you join]
Type in the following command when you enter the chatroom to change your name "/nick INSERTNAMEHERE"
Please be aware Anthony may not be available at the time of your arrival so feel free to familiarize yourself with the community first
Topic / Objective
Edit
If you are a fan and/or watcher of PlayingWithMahWii, please feel free to add information to this wiki. We could use a lot of help right now, since we're a relatively new wikia,  so any sort of contribution is greatly appreciated!
The current objective would be to get as much Information about PlayingWithMahWii on the Wiki as we can, which includes his videos, channel, livestreams, IRC chat, friends, acquaintances and other such aspects of his fanbase.
Latest activity
Edit
Ad blocker interference detected!
Wikia is a free-to-use site that makes money from advertising. We have a modified experience for viewers using ad blockers

Wikia is not accessible if you've made further modifications. Remove the custom ad blocker rule(s) and the page will load as expected.